5 Important Things To Consider When Choosing A Tow Truck Service In Dubai
Our cars play a very big role in our daily lives–from running our daily errands, and getting us to work, to collecting the kids from school. Our cars make it much easier to do all these things, but sometimes, just like we humans, they break down.
There are multiple reasons why you might have a breakdown, from something as small as a flat tire to a really big issue like a blown engine. Point is–when your vehicle breaks down, you'll need to reach out to a breakdown recovery service (preferably an experienced one) to help get you sorted and back on the road again.
So, how will you know which towing service in UAE to call exactly? Let's look at a few tips you should bear in mind when you need to reach out to a tow truck service in Dubai.
1. Can They Handle Towing Your Vehicle?
You'll need to inquire from the breakdown towing service that you decide to call what their towing capacities are depending on what you'll be towing.
If you're towing a regular vehicle then this shouldn't be a problem, however, if you have something slightly bigger than your average automobile, for example, a recreational vehicle or a trailer, then you might need to find a towing company that can handle bigger vehicles such as these.
Additionally, if you happen to have a breakdown whilst towing another vehicle, or a trailer carrying a boat, then you'll need to find out if the breakdown towing service can handle your assets.
You will probably have to look for a nearby, available breakdown recovery service if you find yourself stranded far from home or work. Find out how far their towing service station is from your location and how long it will take them to arrive. You definitely wouldn't want to remain stranded in an unfamiliar area for a long time.
If you're not stranded and just need to transport your vehicle, perhaps you could simply schedule a tow.
3. Are They Licenced And Insured?
You want to make sure the tow truck service in Dubai that you choose has valid insurance. It's a possibility that the small firm you're thinking of hiring or the individual contractor you want to use doesn't have insurance. Because of this, receiving compensation could be challenging if something were to happen to your car while it is being transported.
Secondly, you ought to take into account their credentials while assessing towing services. This covers their company license as well as their qualifications for towing and commercial driving. Check out their reviews to see what other customers have to say about their qualifications.
4. Choose One With A Trusted Reputation
Any company needs a good reputation in order to gain the trust of potential customers.
Reviews help you find out what other consumers' experiences with a company were like. Additionally, it helps you determine whether you can trust a company.
Prior to scheduling, always check the tow companies' references and reviews. To always gain a bigger perspective, you should search for as many diverse views as you can. Never choose after reading just one review.
Find an alternative company to assist you if anything in those reviews causes you to be concerned.
5. Affordability (Not OverLooking Reputation)
Finding the ideal balance between excellent service and price is important when selecting a breakdown recovery service.
Comparing towing costs might help you keep within your budget, but you should be skeptical of deals that seem too good to be true. The good news is that it won't take you long to locate a business that provides top-notch service at a reasonable cost.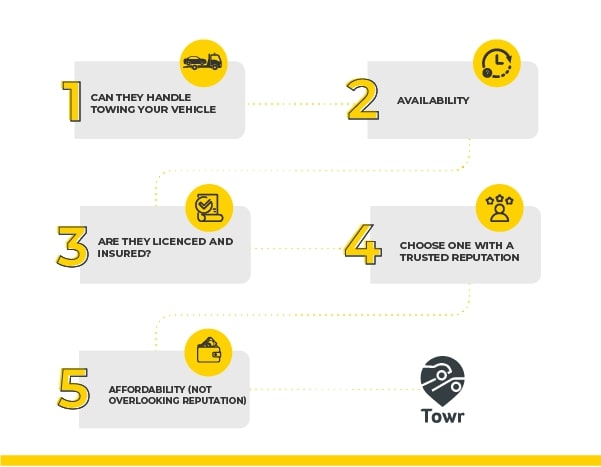 Take into consideration how different towing companies interact with and handle their customers. It is advised that you choose a Tower's car recovery service in Dubai with a reputation for offering high-quality customer support services. Determine whether the business has a reputation for paying attention to and responding to the demands of its clientele before deciding which one to choose. Check out customer testimonials to aid in your decision-making. Additionally, you'll want to choose a towing company that is insured, certified, and available around your area.